Photographers produce and preserve images that paint a picture, tell a story, or record an event. It's their job and their passion to make sure our precious memories are perfectly preserved and presented in the best possible way.
With now hundreds of photographers available in the city ready to hire, various genres ( Event photographer, Wedding photographer, Travel photographer, Model photographer, and so on. ), technology (Cameras, drones, photo post-processing, cinematography), here are our few tips on finding a right photographer for your wedding.
1. Understand the purpose of Photography
It is very important to know that the job of a photographer is not just come to the event and take photos. A wedding photographer should be equipped with various characteristics like not getting distracted by chatting guests, not feeling awkward standing in the middle of the venue, know how to work in a crowd, know how to work with lights and understand perspective and motion. They should be able to document not only the wedding ceremony and reception, but also the events leading up to the wedding. Bride and Groom are the focal point but s/he must also document guests, decorations, and other memorable aspects of the day. Thus, when selecting a photographer, especially when reviewing his/her portfolio, it is important to keep in the mind the purpose of a photographer in your event and judge if his/her work will do justice for your event.
2. Know your Style
Selecting a photographer becomes useless if you are not aware of your own style you want to portray through your photographer. First things first, know your style. Give your rough ideas to create the basic theme of your life exhibition of a day. Here are some styles for your inspiration.

3. Use the power of the Internet, Read reviews and make a shortlist
Search and make handful numbers of photographers in your list. Use http://ceremonynepal.com/services/photographers to search photographers and view their portfolio and facebook pages. Of course you can use Google too. Make most out of internet. View their portfolio, observe their styles, read the feedback from other customers and make a shortlist of your favorites. With ceremonynepal, You can easily make a shortlist of your favorites by clicking add to favorites button in photographer's page.
4. Know your budget
There are many things to consider when looking for and choosing a wedding photographer, however your budget is also an essential part of the preparation. It includes the numbers of the backup teams, their roles and the technical equipment they will use. It also highly depends upon what style and the photographer you choose for your day. But, it is highly recommended not to compromise your photographer for your big day.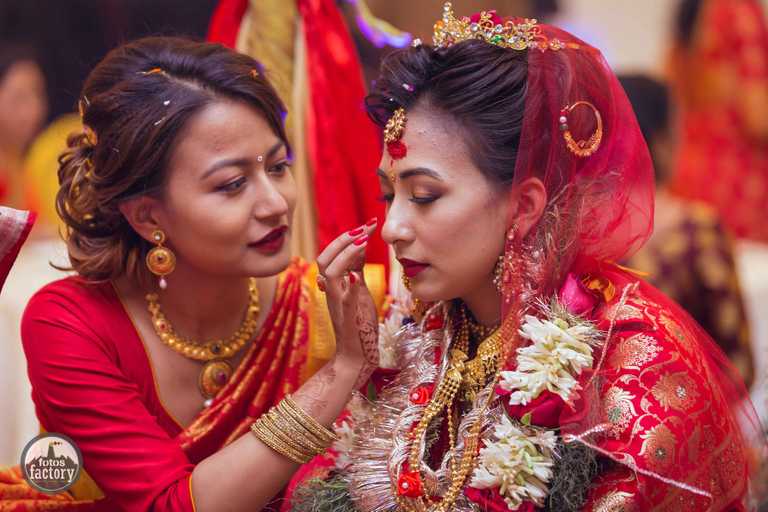 5. View real Event Photos
Don't base your decision solely on what you see in a photographer's highlights. For good reason, photographers show prospective clients a portfolio of their best pictures, all from different weddings, so you're seeing the best of the best. The problem with that is you won't get a well-rounded idea of their work. View more pictures from their real weddings they've shot so you can get a better idea of what your complete collection of photos might look like after the wedding.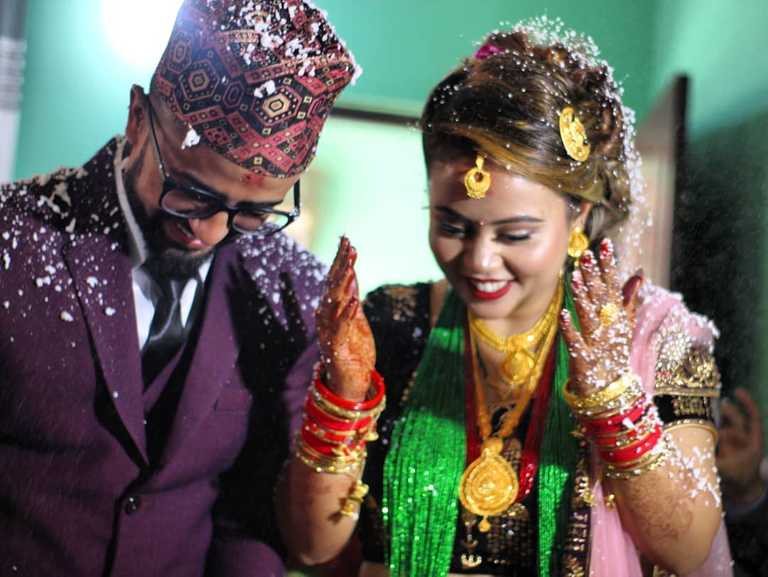 6. Make sure they know your Traditions
Unlike other traditions, Nepalese society comprise of different cultures, values and rituals. Thus, it it equally important that your photographer know the value, importance and the sentiment of traditional activities. Even if he has no detail knowledge, he should be able to manage promptly.
7. Start looking Early
Booking your wedding photographer should be one of the first things you do after you have booked your venue. Wedding photographers are in high demand, especially in the busiest times of year for weddings, and many of the good ones will be booked up a year in advance.
8. Trust and Bonding
Make sure you feel happy working with your photographer, feel at ease, make sure you feel you can trust them to capture the biggest day of your life. When chatting with them you want to feel relaxed, like chatting to a friend or someone you have known for years. If you feel relaxed and at ease with them it will help for better and more natural photos, you will feel more relaxed around them when they are taking photos and are more likely to be up for more fun and creative photos, and ideas your photographer may have for great shots.
9. Ask for Offers and Extra Shoot
Many of Nepalese offer packages for Wedding Ceremonies that includes a pre and post wedding shoot. Don't hesitate to ask for extras in a different peaceful or outdoor location where photographers can come up with creative ideas for a bridal photo session.
10. Avoid making Friends and Relatives your Top Priority
Never pick a photographer just because they are your friends/relatives and have a DSLR camera. Remember wedding happens once but it's the photos and memories that you share, cheris and see over and over again.
PHOTOCREDITS: FOTOS FACTORY, RAJU GHOTAME (MUNNARAJU)