One of the more fun and exciting events leading up to your big day, celebration or a party is the Hair. What type of style you imagine yourself wearing—be it half-up/down, braids, soft waves, pulled back in a chic chignon or down with Hollywood waves. With so many choices to choose from, it can be a bit overwhelming for anyone, including a bride.
To help narrow down your options, we have gathered few tips and tricks regarding the connection your face shape and your hair. We'll help you figure out the best hairstyles for your face shape, so you can rock runway-worthy 'dos every day even without your own personal glam squad.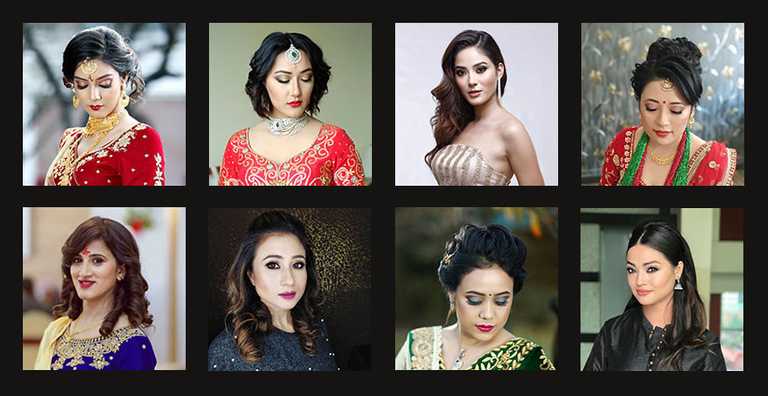 First, Determining Your Face Shape
One of the frequent mistake what every 8 in 10 women thinks that her face is round shape, which is a mistake. When determining your face shape, you should be looking at your hairline, width and length of your face, and the jawline. Pull your hair back, take an eyeliner or lip pencil, look in the mirror, and trace the outline of your face. Your face shape should fall within one of the following categories: oval face, round face, square face,heart shaped face, and oblong shaped face.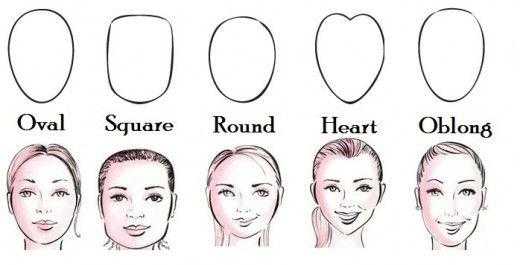 Oval Shaped Faces
Features:
Length is longer than the width, cheeks are probably the widest area of your face, and the jawline is only slightly narrower than the hairline.
This face shape is considered to be the most versatile for hairstyles.
Celebrities with an oval face include Bella Hadid, Katrina Kaif, Béyonce, Jessica Alba.
Key: Styles that avoid elongating your face, styles that keep your hair away from your face, exposing your balanced features.
DOs:
When you're wearing your hair down, be sure to have either one or both sides of your hair tucked behind your ear showing off your cheekbones.
Side swept bangs or any hairstyles that take the hair away from your face will suit you.
For shorter style, try a blunt bob with face-framing pieces that clears the shoulder.
Else a shoulder-length cut with subtle layers to add volume and keep your hair from falling flat.
DON'Ts:
No to heavy bangs, as this could make your face appear shorter, and avoid hairstyles that are one length, as this could make your face appear longer.
Square Shaped Faces
Features:
Square-shaped faces are wide, and the forehead, cheekbones, and jawline are almost the same width.
The strong jawline is a prominent feature of square-shaped faces, like on Rihanna, Lady Gaga, Olivia Wilde.
Key: Styles that accentuate the square-ness of your face and soften your strong jawline.
DOs:
Soft waves and straight hair looks perfect for a bride to be with a square shaped face
Long hairstyles are often the most flattering for this shape
If you're going for an updo, opt for something that's loose, curl and soft, with loose sections around your face rather than something slicked back and severe.
DON'Ts:
Any sleeked back or severe hairstyles
Curls could also widen your face, so opt to wear your hair in either loose waves or straight.
Avoid thick bangs or blunt hairstyles
Round Shaped Faces
Features:
Faces are the same in width and length, with no prominent angles or corners.
Are usually "baby-faces" which means you look younger and can opt for more youthful hairstyles.
Celebrities like Selena Gomez, Kirsten Dunst, Aishwarya Rai have round faces.
Key: Styles that elongate the face so that you can shorten the visual width of your face, Opt for hairstyles that are loose and voluminous.
DOs:
Always leave a little piece of hair untucked on one side of your face, this shortens the width of your face and tricks the eye into thinking your face is narrower.
Try a deep side part to also create more angles to a round face, or pull your hair up into a high pony to elongate the face.
DON'Ts:
Hiding face behind lots of hair, which actually ends up accentuating the wide face.
Avoid soft and wispy bangs, instead, opt for side swept bangs or bold bangs.
Heart Shaped Faces
Features:
Just like a heart that you would draw out, a heart-shaped face is wider at the hairline and temples and tapers to a small, narrow chin, usually slightly pointed.
If you have a heart-shaped face, you likely also have killer cheekbones.
Look at Halle Berry, Scarlett Johansson, Deepika P.
Key: Opt for loose styles that adds weight at the bottom.
DOs:
Parting your hair on the side or even some side bangs will help give you the perfect face shape
Curls, waves and fishtail braids are all great for accentuating this beautiful face shape
Shoulder length hair tends to look best, as this adds volume around the bottom of your face
DON'Ts:
Skip out on short bangs as these could make your chin look even narrower.
Don't opt for a middle part, go for a side part with all your bridal hairstyles.
Oblong Shaped Faces
Features:
A long narrow shape with a straight jawline and pointy chin.
Famous celebrities like Sarah Jessica Parker, Kate Beckinsale, Liv Tyler have long face shape.
Key: Styling Tricks that Flatter Your Oblong Face Shape or adds more width to your face.
DOs:
Curls are an excellent option.
You want the widest part of your waves to hit around the area of your cheekbone.
Classic tight curls, super straight hair or deep side parted styles
Side-parts
DON'Ts:
Avoid hair that is too far past mid-length, as this lengthens the face.

PHOTOCREDITS: POONAM BEAUTY CLUB & THE BEAUTY BAR